VIASURE Real Time PCR Detection Kits
Flu A, Flu B & SARS-CoV-2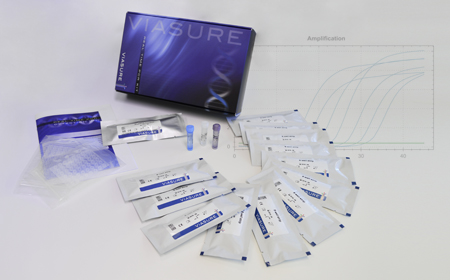 Description
VIASURE Flu A, Flu B & SARS-CoV-2 Real Time PCR Detection Kit is a real-time RT-PCR test designed for the qualitative detection of RNA from the Influenza A (Flu A), Influenza B (Flu B) and/or SARS-CoV-2 in nasopharyngeal and oropharyngeal swabs from individuals suspected of respiratory infections by their healthcare provider.
This test is intended for use as an aid in the diagnosis of Flu A, Flu B and/or SARS-CoV-2 in combination with clinical and epidemiological risk factors.
RNA is extracted from respiratory specimens, amplified using RT-PCR and detected using fluorescent reporter dye probes specific for Flu A, Flu B and SARS-CoV-2.
Specifications
Specimen Type
Respiratory
Storage temperature
(Also transport) Room temperature
Information
Coronavirus are enveloped non-segmented positive-sense RNA viruses and belong to Coronaviridae family. Human-to-human transmission of the SARS-CoV-2 has been confirmed, even in the incubation period without symptoms, and the virus could cause severe respiratory illness like those SARS-CoV produced. Although the pneumonia is the principal illness associated, a few patients have developed severe pneumonia, pulmonary edema, acute
respiratory distress syndrome, or multiple organ failure and death. Centers of Disease Control and Prevention (CDC) believes that symptoms of SARS-CoV-2 may appear in as few as 2 days or as long as 14 days after exposure, being the most common fever or chills, cough, fatigue, anorexia, myalgia and dyspnea.
Influenza viruses belong to the Orthomyxoviridae family and cause the majority of viral lower respiratory tract infections. Influenza A and B are a significant cause of morbidity and mortality worldwide, considering that elderly and immunocompromised individuals are especially at risk of developing severe illness and complications such as pneumonia. People feel some or all of these symptoms: fever or feeling feverish/chills, cough, sore throat, nasal stuffiness and discharge, myalgia, headaches, and anorexia. The influenza viruses can be spread from person to person in two different ways: through the air (large droplets and aerosols from sneezing and coughing), and by direct or indirect contact.
Diagnosis can be problematic, as a wide range of pathogens can cause acute respiratory infections presenting with similar clinical syndromes. Real-time PCR assays have been shown to be a sensitive and specific diagnostic tool for the detection of Influenza A, Influenza B and SARS-CoV-2 viruses.