1. Molecular Biology enzymes & Hot Start PCR mAbs
1.1 Molecular Biology Enzymes
1.2 Hot start PCR monoclonal antibodies
2.1 DNA RT-qPCR Master Mix
2.2 RNA RT-qPCR Master Mix
3.2 ssRNA substituted in C2
5.1 Taqman Probes Monoquenched
5.2 Taqman Probes Doublequenched
5.3 Biolocked Taqman Probes (Locked Nucleic Acids Probes)
5.4 Taqman Probes with MGB
6. Fluorophores & Quenchers
1. Molecular Biology enzymes & Hot Start PCR mAbs
1.1 Molecular Biology Enzymes
1.2 Hot start PCR monoclonal antibodies
1. Molecular Biology enzymes & Hot Start PCR mAbs > 1.1 Molecular Biology Enzymes
MT-E27RT
Kit Reverse Transcriptase (RT2), lyophilized (50000 U)
MT-E27TAQk
Kit Thermus aquaticus (Taq) polymerase without 5'-3' exonuclease activity, lyophilized (5000 U)
MT-E27TAQ
Kit Thermus aquaticus (Taq) polymerase, lyophilized (5000 U)
MT-25RT2
Reverse Transcriptase (RT2) Glycerol free (250.000 u)
MT-25TAQ
Thermus aquaticus (Taq) polymerase Glycerol free (50.000 u)
MT-25TAQk
Thermus aquaticus (Taq) polymerase without 5'3' exonuclease activity Glycerol free (25.000 u)
1. Molecular Biology enzymes & Hot Start PCR mAbs > 1.2 Hot start PCR monoclonal antibodies
MT-16TQ01
Anti-TAQ polymerase mAb (clone TQ01) (x1mg)
MT-16TQ32
Anti-TAQ polymerase mAb (clone TQ32) (x1mg)
2. Master mix
2.1 DNA RT-qPCR Master Mix
2.2 RNA RT-qPCR Master Mix
2. Master mix > 2.1 DNA RT-qPCR Master Mix
MT-25MXD
Liquid DNA Master Mix Hot Start (100 reactions)
MT-27MXD
Lyophilized DNA Master Mix Hot Start (50 reactions)
2. Master mix > 2.2 RNA RT-qPCR Master Mix
MT-25MXR
Liquid RNA Master Mix Hot Start (100 reactions)
MT-27MXR
Lyophilized RNA Master Mix Hot Start (50 reactions)
3. Primers
3.1 ssDNA unsubstituted
3.2 ssRNA substituted in C2
3. Primers > 3.1 ssDNA unsubstituted
Code
Length
Purification Methods
Quantity (nmol)
OL-PRIMER
(12-50 mer)
Desalted / Cartidge / RP-HPLC
50 / 200 / 1000
OL-ULDNA
(50-200 mer)
RP-HPLC
50 / 200 / 1000
3. Primers > 3.2 ssRNA substituted in C2
Code
Length
Purification Methods
Quantity (nmol)
OL-MRNA
(12-50 mer)
RP-HPLC
50 / 200 / 1000
4. dsDNA blocks
Code
Product / Producto
Length
OL-DSDNA
Liquid dsDNA blocks
(100-3000 pb)
OL-DSDNA-L
Lyophilized dsDNA blocks
(100-3000 pb)
5. Probes
5.1 Taqman Probes Monoquenched
5.2 Taqman Probes Doublequenched
5.3 Biolocked Taqman Probes (Locked Nucleic Acids Probes)
5.4 Taqman Probes with MGB
5. Probes > 5.1 Taqman Probes Monoquenched
Code
Modification 5'
Modification 3'
OL-PROBE-MTP
FAM / HEX
ROX / Cy5
BHQ-1 / CBQX
BHQ-2 / CBQX2 / CBQx3
5. Probes > 5.2 Taqman Probes Doublequenched
Code
Modification 5'
Modification 3'
OL-PROBE-DTP
FAM / HEX
BHQ-1 / CBQX
5. Probes > 5.3 Biolocked Taqman Probes (Locked Nucleic Acids Probes)
Code
Modification 5'
Modification 3'
OL-BLPROBE
FAM / HEX
ROX / Cy5
BHQ-2 / CBQX2 / CBQX3
BHQ-1 / CBX
5. Probes > 5.4 Taqman Probes with MGB
Code
Modification 5'
Modification 3'
OL-MGBPROBE
FAM / HEX / ROX / Cy5
Eclipse
6. Fluorophores & Quenchers
Code
Emission / Absorbance wavelength
Description
OL-FCy5
670 nm (Emission wavelength)
Cy5 phosphoramidite (x1 g)
OL-FFAM
517 nm (Emission wavelength)
5(6)-FAM phosphoramidite (x1 g)
OL-FHEX
539 nm (Emission wavelength)
5(6)-HEX phosphoramidite (x1 g)
OL-FROX
604 nm (Emission wavelength)
5(6)-ROX phosphoramidite (x1 g)
OL-QBH1
500 – 560 nm (Absorbance wavelength)
Non-fluorescent Black Hole Quencher-1 phosphoramidite (x100 mg)
OL-QBH2
520 – 580 nm (Absorbance wavelength)
Non-fluorescent Black Hole Quencher-2 phosphoramidite (x100 mg)
OL-QECL
470 – 530 nm (Absorbance wavelength)
Non-fluorescent Eclipse quencher analogue. Phosphoramidite derivative (x100 mg)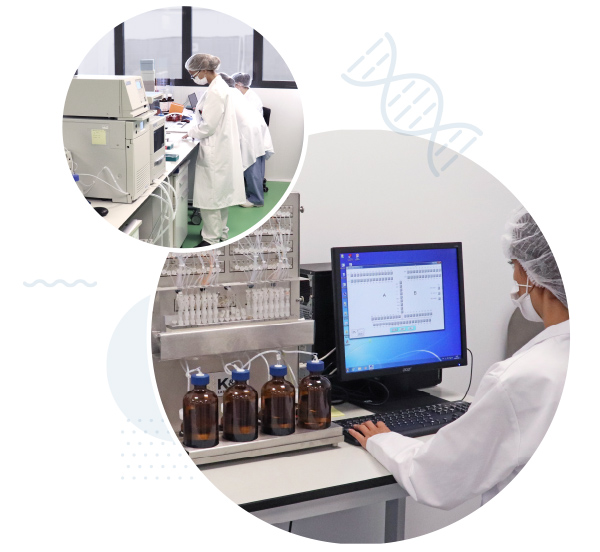 Molecular diagnostic
Certest Raw Materials provides high quality solutions for developing and manufacturing your Molecular Diagnostic IVD assays.
Our expertise in primers & probes synthesis and purification, molecular biology enzymes manufacturing and dsDNA synthesis offers to our customers
a priceless support in their challenging projects.
All these items are already being used by our Viasure division in all their IVD products with excellent results.
Additionally, we also manufacture our own fluorophores & quenchers that allows us to have the best tools available and the proper knowledge for
manufaturing your customized probes in a competitive time.
Our experience with qPCR diagnosis has helped us to better understand the challenges to provide specific products to specialized customers.