Certest renews the RSA+ seal for 2023
Once again, Certest Biotec, S.L. has obtained the renewal of the RSA+ seal of the Aragon Social Responsibility Plan, which represents confirmation of the company's commitment to the social principles of awareness, commitment, training and transparency that make up the aforementioned plan.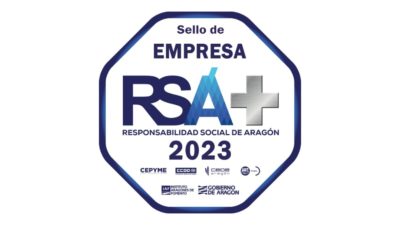 The RSA+ Seal is a step forward in the framework of Social Responsibility, promoting three aspects:
The reconciliation of personal, family and work life, in line with the guidelines promoted by the Directorate General for Equality and Family.
The promotion of equality in all types of organizations, prioritizing the same opportunities and the principle of non-discrimination.
Volunteering, promoting collaboration between NGOs and NPOs, with the aim of creating a stable relationship between the two and promoting the use of the Cooperation Window and the involvement of organizations in promoting culture in Aragon, promoting their relationship with the environment.
This Seal represents an added value that highlights the involvement of companies to make the Aragonese business fabric a benchmark at a national level.