VIASURE SARS-CoV-2, Flu & RSV Real Time PCR Detection Kit is the new CerTest diagnostic kit designed for the identification, from a single respiratory sample of the patient, the causing viruses for COVID-19, Influenza A/B and RSV A/B (Respiratory Syncytial Virus).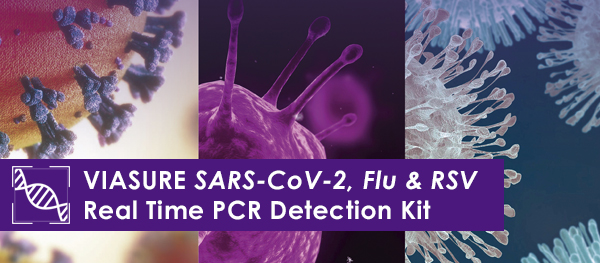 It is known that the season for these respiratory viruses lasts from October to March, with most cases occurring between December and March. In addition, this year there is a new player: SARS-CoV-2 virus as causing the so-called COVID-19 disease. Last February CerTest released a PCR diagnostic kit for the identification of the SARS-CoV-2 virus.
As the symptoms associated with the three diseases are similar -fever or feverish sensation, chills, cough, sore throat and headache, among others-, it can be difficult to distinguish them based only on the symptoms, so it is essential to perform a diagnostic test to confirm the type of virus causing the ailment. The Real Time PCR diagnostic test developed by CerTest is one of the most sensitive and specific diagnostic tools -with the addition of the high reliability which has been already demonstrated for the detection of these viruses- that the company markets in more than 130 countries around the world.
The operation of this test is based on the detection of viral RNA present in the patient sample and its amplification and measurement using specific technical devices. It is a test for professional use only, which requires trained staff, technical equipment and dedicated facilities in order to handle potentially dangerous samples.
The test is already available to be used in centers for the diagnosis and treatment of samples, and it is expected that in the coming months, as the wave of infections due to the respiratory diseases will increase, it will contribute with pacients differentiation, helping a better and faster diagnosis and subsequent treatment.
More info thorugh: https://www.certest.es/products/sars-cov-2-flu-rsv/