The Aragonese biotechnology company Certest Biotec plans to begin in a month the works of its fifth and sixth phase of expansion to have a vaccine development and manufacturing plant in which it will invest 50 million euros and which will be ready in September 2022. The objective is to intensify the research with the hiring of fifty professionals, who will join the 236 who are already on the staff, in order to launch their own vaccines based on messenger RNA technology to combat diseases such as covid, whose research will involve a similar outlay of 50 million.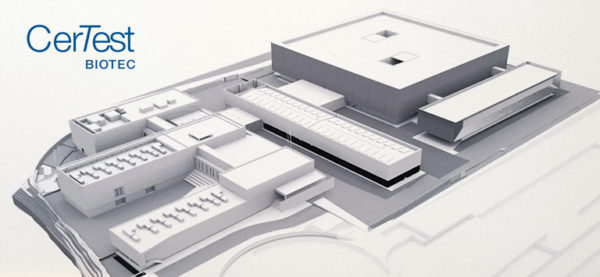 The company specializes in the manufacture of PCR and antigen tests, as well as reagents and raw materials, and is determined to expand its activity, as it was advanced in the visit of the former Minister of Science, Pedro Duque, last February. Shortly, construction work will begin on a 13,218-square-meter pilot plant that will also have a 2,858-meter annexed office module, designed by the consulting firm Idom, which also designed the initial headquarters of 2,545 meters, and the successive extensions carried out since 2015 in San Mateo de Gállego.
These facilities will be the seed for developing future messenger RNA vaccines and producing the thousands of units that will be needed for the testing phase. This intense work will require between three and five years, according to the latest estimates.
The Aragonese biotech company has 26,898 square meters to duplicate its facilities located in the Río Gállego II industrial estate, in San Mateo de Gállego. And it will be essential to grow when the development of vaccines will face the final stage.
The Counsellor of Science of the Regional Government of Aragon, Maru Díaz, advanced his intention to declare the project as regional interest to facilitate investment and accelerate deadlines, since the medical-pharmaceutical sector is "strategic for Aragon". Díaz highlighted that Certest emerged two decades ago and was developed at the European Center for Business and Innovation in Aragon before opening its facilities in San Mateo. "The company started with a 2,500-meter headquarters and before the end of the year it will finish its fifth and sixth expansion to reach more than 26,000 with a staff of more than 200 people," she explained. The Counsellor of Science and University intends to convert the Río Gállego II industrial estate, into a technology park specialized in the medical-pharmaceutical sector.
Source: Heraldo de Aragón (extract). Author: Jorge Alonso (August, 9th).