From April 9th to 12th the Amsterdam RAI Convention Centre is hosting the 26th edition of the ECCMID Congress -European Congress of Clinical Microbiology and Infections Diseases-, where CerTest shows its new products and releases for the in vitro diagnosis of diseases, through its Rapid Test product range and the new VIASURE products which are based on molecular biology techniques, which includes more than 20 references.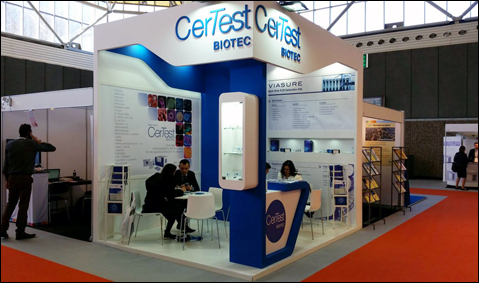 Visit CerTest! Booth No. 133A
Since its founding in Germany in 1983, this event has evolved to become Europe's leading society in clinical micorbiology and infectious diseases with members from all European countries and all continents. ECCMID has been an influential component in the professional lives of microbiologists and infectious disease specialists and now reaches more than 33,000 individual and affiliated members around the world.
Besides, the technical program includes two poster from Certest:
1. "Comparison of two commercial Real Time PCR assays for detection of parasitic infections"
(Authors: Eva Machetti Mareca ·  Rebeca Escosa Vela ·  Mª Concepción Gil Rodríguez)
2. "Comparison of Real Time PCR tests with culture to diagnostic enteropathogens in stool samples"
(Authors: Silvia Valledor ·  Cristina Seral ·  Jessica Bueno ·  Alba Bellés ·  Sonia Algarate ·  Mª Concepción Gil ·  Francisco Javier Castillo)
More information, through www.eccmid.org