VIASURE Resp. viruses Quick Lysis Reagent
Designed to quickly process respiratory samples as nasopharyngeal and oropharyngeal swabs and saliva.
Compatible with VIASURE qPCR products, including SARS-CoV-2 detection kits. Very easy transport and storage, not freeze required.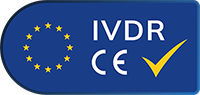 Quick sample processing (10 min).

Ready to use. No specific equipment required.

Compatible with transport media without guanidium salts.
High Specificity and Sensitivity. Detection up to 5 copies/qPCR reaction.

Compatible with different biological matrices:

• Nasopharyngeal and oropharyngeal swabs in transport medium.
• Saliva without preservatives.