VIASURE DNA/RNA Pathogen Extraction Kit
Extract from various biological samples: swabs, saliva, sputum, bronchoalveolar lavages, fecal and urine samples.
Based on magnetic particles, which allows its automation for high throughput analysis, reducing hands-on-time and improving reproducibility.
The extraction kit
has been optimized for two type of magnetic separation methods

: VIASURE V-Flex and KingFisher® Flex (other platforms ongoing).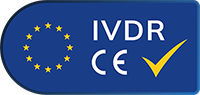 Features
Technology
Magnetic beads

Sample material
Swabs, saliva, sputum, feces, and urine. Compatible with inactivating transport buffers including guanidine salts

Sample/Elution volume
volume 200 μl/ 100 μl

Target molecules
Viral, bacterial, parasitic and fungal DNA and RNA

Compatible platforms
VIASURE V-Flex System and KingFisher ® Flex

Formats
VIASURE V-Flex System Cartridges x 96 preps Open Format bottles x 96 preps
Adaptable for high and low throughputs.
Simultaneous processing of different kind of clinical samples.
Simultaneous processing of various potential infectious diseases.