VIASURE Real Time PCR Detection Kits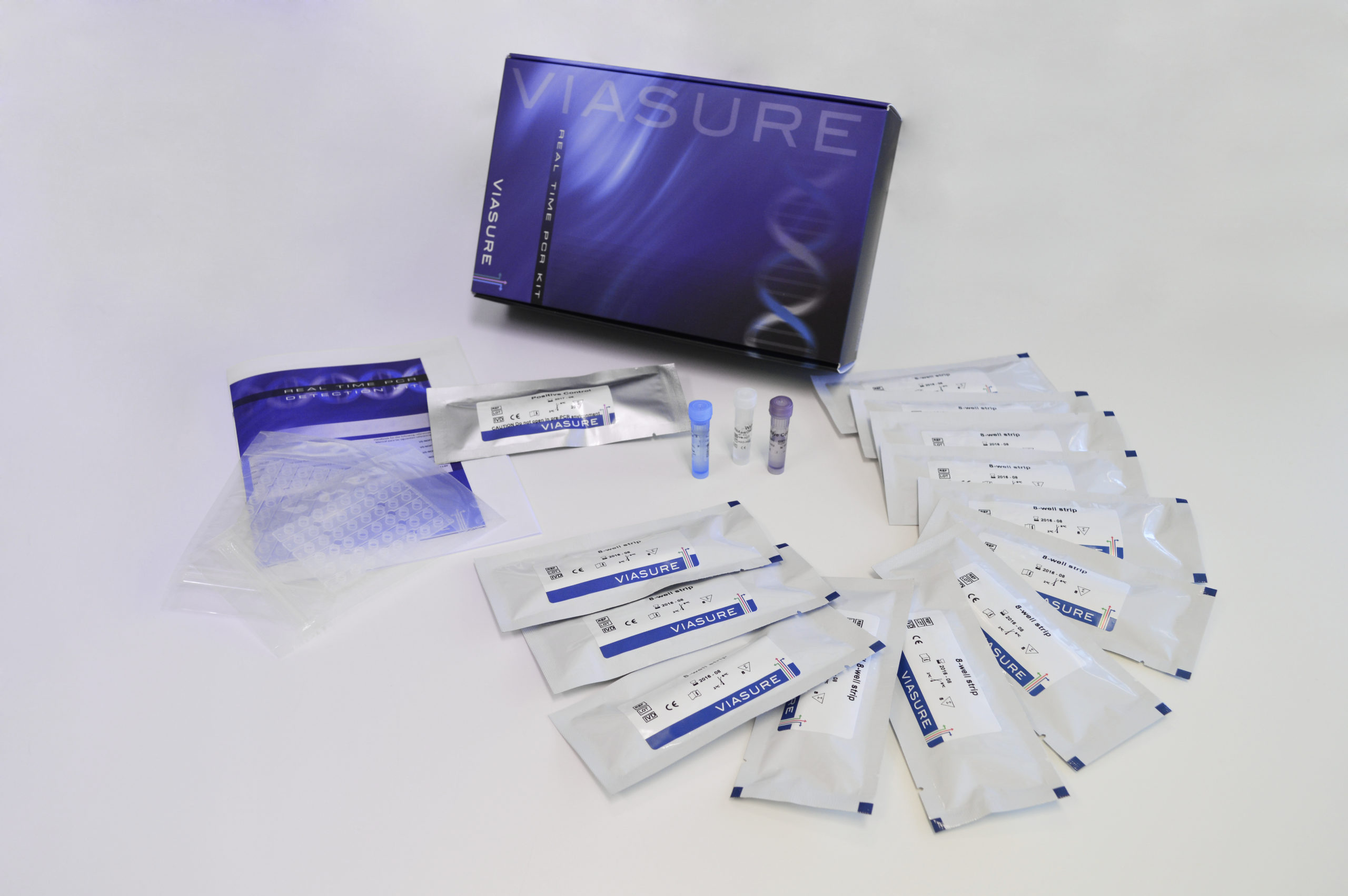 Description
VIASURE Vancomycin resistance Real Time PCR Detection Kit is designed for the specific detection and differentiation of vanA and vanB genes associated with vancomycin-resistant enterococci (VRE) in clinical samples from patients with signs and symptoms of bacterial infection.
This test is intended to be used as an aid in the identification of vancomycin-resistant organisms in combination with clinical and epidemiological risk factors.
DNA is extracted from clinical specimens, multiplied using Real Time amplification and detected using fluorescent reporter dye probes for vanA and vanB genes.
Specifications
Specimen Type
Clinical samples
Storage up to
(From production) 2
Storage temperature
(Also transport) Room temperature -
Information
Enterococci are common commensal organisms found in the gastrointestinal tract and female genitals. Recently they are recognized as opportunistic pathogens causing nosocomial infections as urinary tract infections, skin infections, respiratory infections, endocarditis and sepsis in compromised host.
Vancomycin is a glycopeptide antibiotic that inhibits cell wall synthesis and used to treat severe Gram-positive bacterial infections. Vancomycin resistant enterococci (VRE) were first reported in England and France in 1986 and now spread through hospitals worldwide.
The resistance to vancomycin is complex process and needs to presence of different gene clusters. Mainly, they can be divided into two types depending on the pentapeptide precursors produced by vancomycin resistance genes; the precursor ending in D-Alanine-D-Serine (VanC-, VanE-, VanG-, VanL- and VanN-type) or ending in DAlanine-D-Lactate (VanA-, VanB-, VanD- and VanM-type). These pentapeptide precursors showed low-affinities for the glycopeptides and conferred vancomycin-resistances on enterococci.
The first type of vancomycin resistance in enterococci is intrinsic resistance (i.e. associated with vanC gene). Isolates of Enterococcus gallinarum and E. casseliflavus/E. flavescens demonstrate an inherent, low-level resistance to vancomycin. Whereas, the second type is acquired resistance (i.e. vanA or vanB genes) due to enterococci can become resistant by acquisition of mobile genetic elements (transposons and plasmids) from another Enterococcus specie or organism. Most commonly, this resistance is seen in E. faecium and E. faecalis, but also has been recognized in E. raffinosus, E. avium, E. durans, and several other enterococcal species. vanA and vanB genes are responsible for high or moderate level vancomycin resistance.
Transmission of vancomycin-resistant enterococci (VRE) can occur through direct contact with body fluids from colonised or infected patients (blood, wound drainage, urine, stool, sputum and other) or through indirect contact via the hands of health-care workers, or via contaminated patient care equipment or environmental surfaces.
The screening method applied at the beginning was culture-based, which is time-consuming and takes generally from one to five days to complete. To shorten the detection time and improve the sensitivity, Real Time PCR assays have been shown to be a tool for the detection of clinically relevant genes associated with vancomycinresistant.