VIASURE Real Time PCR Detection Kits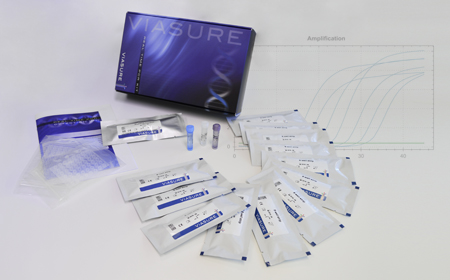 Description
VIASURE Papilloma Virus 16 + 18 Real Time PCR Detection Kit is designed for the specific identification and differentiation of Human papillomavirus 16 and/or Human papillomavirus 18 in clinical specimens from patients with signs and symptoms of Human papillomavirus infection.
This test is intended to be used as an aid in the diagnosis of Human papillomavirus 16 and/or Human papillomavirus 18 in combination with clinical and epidemiological risk factors.
DNA is extracted from specimens, multiplied using Real Time amplification and detected using fluorescent reporter dye probes specific for Human papillomavirus 16 and Human papillomavirus 18.
Specifications
Specimen Type
Clinical specimens
Storage up to
(From production) 2 years
Storage temperature
(Also transport) Room temperature
Information
Human papillomavirus (HPV) is the most common viral infection of the reproductive tract. Most sexually active women and men will be infected at some point in their lives and some may be repeatedly infected.
Human papillomaviruses (HPV) are small double stranded DNA viruses classified in the Papillomaviridae family. These viruses infect skin or mucosal epithelial cells, therefore, viral DNA can be detected from skin, oral and anogenital samples from all human populations. Currently, over 200 types of HPV have been fully characterized and predominantly assigned into three genera: Alphapapillomavirus, Betapapillomavirus and
Gammapapillomavirus. Among the 65 HPV types belonging to Alphapapillomavirus (Alpha-HPV types), a limited set of viruses, the 15 high-risk genotypes, (HPV-16, 18, 31, 33, 35, 39, 45, 51, 52, 56, 58, 59, 66, 68 and 82) are considered oncogenic and associated with the development of cervical cancer and its precursor lesions.
HPV is transmitted through intimate skin-to-skin contact, most commonly spread during vaginal, anal, or oral sex with someone who carries the virus. Nearly all men and women get it at some point in their lives due to this virus can be passed even when an infected person has no signs or symptoms. In fact, you can develop symptoms years after being infected, making it hard to know when you first became infected. The majority of HPV infections do not cause symptoms or disease and resolve spontaneously. But when HPV does not go away, it can cause health problems like genital warts, respiratory papillomatosis and cervical, anogenital and oropharyngeal cancer.
Cervical cancer is the fourth most common cancer among women worldwide and is of particular importance in developing countries based on the lack of proper cervical cancer screening programs. In particular, specific types of HPV (16 and 18) are the most frequently may lead to precancerous lesions. Men and women can get cancer of mouth/ throat, and anus/rectum caused by HPV infections. Men can also develop penile cancer. In women, HPV infection might cause cervical, vaginal, and vulvar cancers. Currently, there are vaccines that could prevent infection with the types of HPV that most commonly cause cancer.
A variety of diagnostic methods of differing sensitivity and specificity have been developed to detect HPV in skin, oral and anogenital samples (mostly, cervical scrapings and biopsy material). Since HPV cannot be cultured efficiently and the clinical performance of serological assays is poor, the diagnosis of HPV infection is almost entirely based on molecular tools. Currently, Real Time PCR offers a high sensitivity and can be performed in different types of samples.