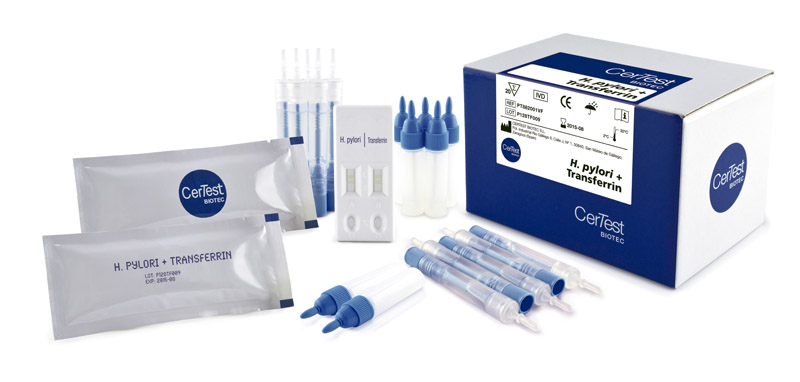 Description
CerTest H. pylori + Transferrin one step combo card test is a colored chromatographic immunoassay for the simultaneous qualitative detection of H. pylori and transferrin in stool samples.
CerTest H. pylori + Transferrin combo card test offers a simple, a highly sensitive and non-invasive screening assay to determine, on the one hand, the presence of H. pylori that causes gastric and duodenal ulcers, and on the other, the presence of gastrointestinal bleeding and moreover, to monitor patients treatment (H. pylori eradication).
Information
Helicobacter pylori (H. pylori) is a spiral-shaped bacterium that is found in the gastric mucous layer or adherent to the epithelial lining of the stomach.
H. pylori causes more than 90% of duodenal ulcers and up to 80% of gastric ulcers. The importance of Helicobacter pylori testing has increased due to the strong correlation between the presence of bacteria and confirmed gastrointestinal diseases (stomach and duodenum) like gastritis, peptic ulcer disease and gastric carcinoma.
Patients suffering from gastro-duodenal ulcer may develop complications such as upper gastrointestinal bleeding or perforation. A precise diagnosis of H. pylori after eradication reduces significantly the risk of ulcer reactivation, and thus prevents new episodes of upper gastrointestinal bleeding. The invasive and non-invasive methods are used for diagnosis of infection with H. pylori in patients with symptoms of gastrointestinal disease.
Transferrin is a blood-derived component. In gastrointestinal bleeding diseases, it may be leaked into gastrointestinal tract and then discharged with the faeces. Transferrin is stable in faeces and a good marker to detect gastrointestinal bleeding.
This immunochromatographic assay detects simultaneously H. pylori and human transferrin in stool samples, obtaining more accurate testing results regarding the H. pylori infection.