VIASURE Real Time PCR Detection Kits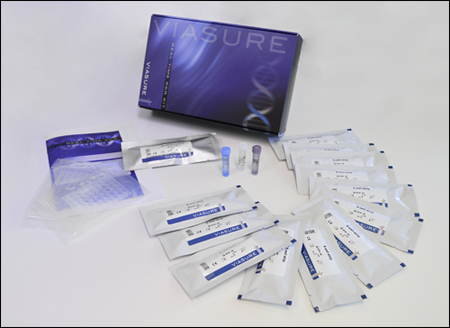 Description
VIASURE Astrovirus Real Time PCR Detection Kit is designed for specific identification and quantification of Astrovirus in human stool samples from patients with signs and symptoms of gastrointestinal infection.
This test is intended for use as an aid in the diagnosis of Astrovirus in humans in combination with clinical and epidemiological risk factors.
RNA is extracted from specimens, amplified using RT-amplification and detected using fluorescent reporter dye probes specific for Astrovirus.
Specifications
Specimen Type
Human stool samples
Storage up to
(From production) 2 years
Storage temperature
(Also transport) Room temperature
Information
Human astroviruses (HAtVs) belong to the Astroviridae family, genus Mamastrovirus (MAstV).
Classic HAstVs contain 8 serotypes and account for 2 to 9% of all acute nonbacterial gastroenteritis in children worldwide, although infections in healthy adults, elderly people and immunocompromised hosts are also reported.
The age of children infected with classic HAstV is highly variable, ranging from newborns to over 5 years; however, infection is more common among those younger than 2.Typically, HAstV infection induces a mild, watery diarrhea that lasts 2 to 3 days, associated with vomiting, fever, anorexia, and abdominal pain.
The infection is transmitted essentially through the fecal-oral route, even though food and water may act as vehicles for human enteric virus transmission.
The genome of Human Astrovirus consists of a single molecule of positive-sense single-stranded RNA (ssRNA) which contains three open reading frames (ORFs), named ORF1a, ORF1b, and ORF2. ORF1a and ORF1b encode the nonstructural proteins (nsPs) involved in RNA transcription and replication, while ORF2 encodes the structural proteins.
The genomic region ORF1b has been shown to be the best target for detection due to its highly conserved sequences along Astrovirus.