Certest closes its best edition at MEDICA by presenting its new corporate image.
MEDICA 2022 closed its doors on November 17th, marked by the definitive absence of travel restrictions due to the SARS-CoV-2 pandemic, and a notable increase in exhibitors that have exceeded the figure of 5,000, with more of 81,000 visitors during the four days that it lasts, coming from more than 70 countries.
Certest was first time at MEDICA in 2004. This year has been a special milestone, not only for being a meeting point with clients and partners, but also for being the releasing point for the presentation of its new corporate identity, which has marked both the design and aesthetics of the company's space, as well as documentation, merchandising and all the details associated with it. The great reception and good words towards this change have marked the four days of the exhibition.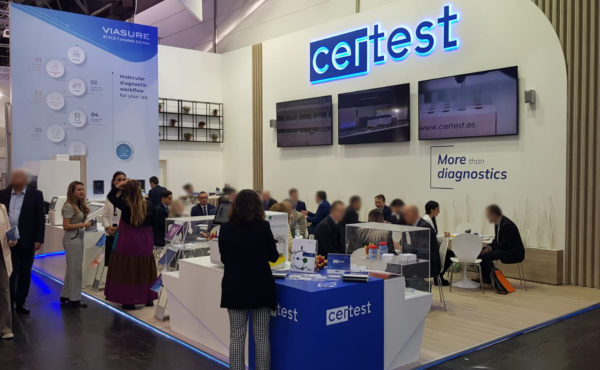 Among the novelties presented this year by the Spanish company, the VIASURE RT-PCR Complete Solution stands out, which offers laboratories and diagnostic centers a complete solution for the workflow from the initial sample collection to the final result, to identify the pathogens causing infectious diseases by using RT-PCR techniques. The new Immunodiagnostic equipment based on the CLIA chemiluminescence technique was also shown, adaptable to small spaces and with a panel for the detection of various pathogens with fecal, respiratory and serological samples. Other immunodiagnostic solutions, such as Turbilatex, Rapid Test and reagents for the manufacture of immunochromatographic or molecular biology diagnostic tests -Raw Materials-, completed the product portfolio.
The complete panel of products, diagnostic techniques and reagents, strengthen Certest's path as a global company of reference in the health sector.
The next appointment will be in 2023, at the MEDLAB Middle East, which will take place from February 6th to 9th in Dubai.