The 25th European Congress of Clinical Microbiology and Infectious Diseases held in Copenhagen -Denmark- the last April 25th to 28th left behind more than 10,000 expert visitors arrived from all over the world to see the new releases about diagnosis and treatment of infectious diseases, associated pathologies and global epidemics such as Ebola's outbreak. This one was the subject of a meeting during the fair.
Within the program for the event, it were projected 150 lectures and workshops, in addition to the publication of about 2,500 poster.
Biotec CerTest was present in this event showing the latest developments about in vitro diagnosis of infectious diseases, while receiving in its stand to all those interested in the technology, products and lines of research that the company works in.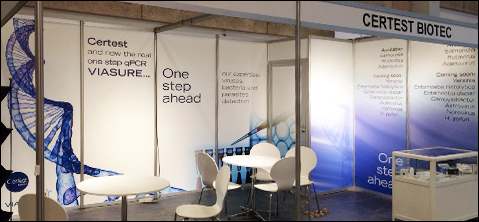 In the picture: CerTest Biotec stand.