On February 4, Ms. Silvia Valledor, from the Molecular Biology Area of CerTest Biotec, gave the talk "Design and Generation of Recombinant RNA Viral Particles for Use in Molecular Diagnostics Products", within the framework of BIFI 2020, international conference focused on new challenges of molecular biotechnology.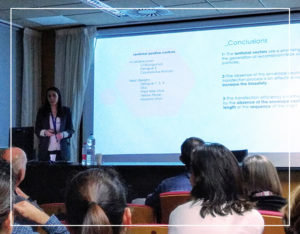 The University of Zaragoza hosted on February 3, 4 and 5 the 9th International BIFI 2020 Conference, with the aim of providing the scientific community the opportunity to disseminate their work and research, as well as strengthen the existing collaborations between the different lines of research promoted by the Institute of Biocomputation and Physics of Complex Systems -BIFI- of the University.
The congress format includes sessions and talks, as well as an area for poster presentations. CerTest Biotec, as  a leader and specialist company in the diagnosis of infectious diseases, was present with the mentioned talk, which shows the company's spirit to share the accumulated knowledge in its VIASURE line of business, which uses molecular biology techniques to identify DNA of disease-causing pathogens in human patient samples.
Source of the text, and more information, through the BIFI website:
http://bifi20.bifi.es