Once again, Certest Biotec will be present in the largest diagnostic and clinical equipment exhibition that
will take place in Dubai from February 3 rd to 6 th.  For this edition, it is expected to exceed last year's data, with
more than 25,000 visits of specialized profiles in the sector, and more than 600 exhibiting companies arrived
from more than 50 countries.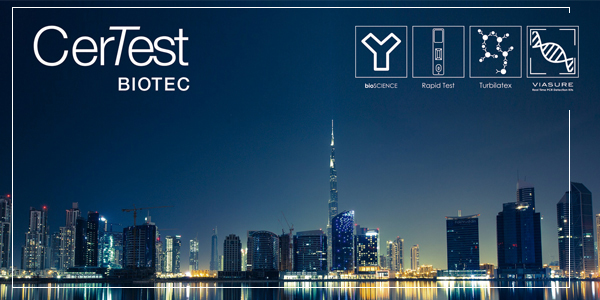 This year, Certest makes a very important qualitative step ahead about the exhibition at MEDLAB Middle
East, by having its own space. A new place to attend all visits and people which may have some interest
about knowing the company's potential, as well as the latest developments in its products and solutions for
the diagnosis of infectious diseases.
Certest company includes four business lines focused on the diagnosis of diseases:
• Certest bioSCIENCE: biomaterials for immunoassays.
• Certest Rapid Test: immunochromatographic tests for the detection of pathogens in faecal samples,
respiratory, urine, etc.
• Certest Turbilatex, for the detection and quantification of tumor and inflammatory markers.
• VIASURE Real Time PCR Detection Kits, which allows to identify the pathogens that cause
Infectious diseases by amplifying DNA fragments.
After Dubai, the next appointment will be in China.
Dates: February 3 rd to 6 th . 2020
Place: Dubai World Trade Center
Certest Space: Z4.F30
More information about this event, through its website: