CERTEST BIOTEC WINNER OF THE FLEXIBLE COMPANY AWARD 2019 ABOUT CONCILIATION AND FLEXIBILITY POLICIES.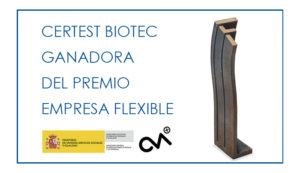 Last December 4th, CerTest received the 2019 Flexible Company Award.
Proud about receiving it, we want to dedicate this award to the entire CerTest staff.
Our promise it to keep going  "One step ahead", with a full commitment with the balance of Professional and Personal life.
¡Thank you!