On December 3rd, in an online event due to the restrictions of the pandemic, Guadalupe del Buey, Head of Human Resources at CerTest Biotec, collected the award with the company confirms its commitment to the social principles of awareness, training and transparency that make up the Social Responsibility Plan of Aragon.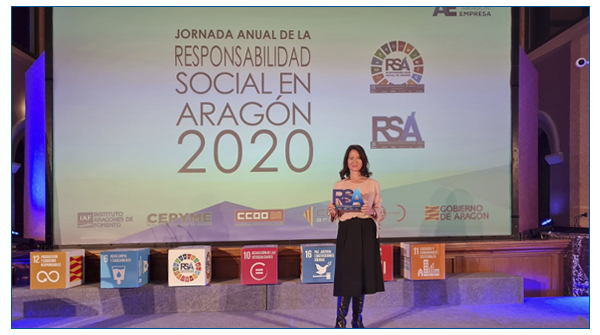 (Picture: Guadalupe del Buey with the RSA 2020 award)
The company's actions confirm its alignment with a sustainable management model that favors the integration of its different actions, the growth and sustained profitability of the organization, with special attention to its stakeholders. Not surprisingly, the company already obtained the RSA+ Seal this year, which has now been reinforced with the RSA 2020 award.
In the words of Guadalupe del Buey, "all these milestones, and this award in particular, increase the satisfaction, motivation, contribution and commitment to responsible management from the entire team that make up CerTest Biotec."
Together with CerTest, the companies Teruel Airport and Manantiales del Piedra have also been awarded.