The May issue of the "Cunicultura" magazine devotes its pages to the CerTest One Step test for detect Rabbit hemorrhagic disease virus…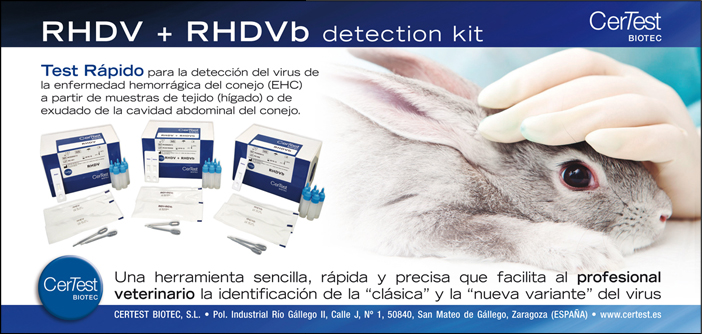 Rabbit hemorrhagic disease (RHD) is an acute, highly contagious and fatal disease of the European rabbit (Oryctolagus cuniculus), caused by a calicivirus (genus Lagovirus).
Infection can occur by nasal, conjunctival or orally. RHD transmission is facilitated by the high stability of the virus in the environment. The incubation period ranges from 1 to 3 days, and the death usually occurs 12-36 hours after the onset of fever.
Recent a "new variant" virus (RHDVb) which affects Young rabbits and farmed adult animals previously immunized with vaccines against "classic" RHDV has been detected. CerTest RHDV + RHDVb is based on the principle of a qualitative immunocrhomatographic assay for the determination of the "classic" and the "new variant" virions of rabbit hemorrhagic disease virus in rabbit tissues samples.