The CACLP – China Association of Clinical Laboratory Practice Expo – meets annually, since 1991, more than
700 exhibiting companies, mainly Chinese, but also from other countries such as Japan, United States, United
Kingdom, Italy, Germany or Spain, among others . In its 15th edition, held in the city of Chongqing, Certest
Biotec, S.L. has joined the list of exhibiting companies to present their products and solutions for the diagnosis
of infectious diseases in humans, through its four business units.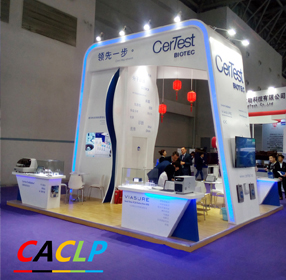 From March 17 to 19, more than 15,000 professionals and visitors gathered in Chongqing, in the largest
and most important fair aimed at the promotion and presentation of new releases in the areas of in vitro
diagnostics and clinical equipment. It has been a unique opportunity for Certest to participate. The company
introduced its own exhibition space, to show the Asian market all the potential, know-how and excellent
results from the four business lines for the Asian market.
Certest showed its four business units:
• Certest bioSCIENCE: raw materials for life science and immunoassays.
• Certest Rapid Test: immunochromatographic tests. A fast, simple, reliable and easy-interpretation
process.
• Certest Turbilatex: a quantitative immunological latex method for the quantification of tumoral and
inflammatoy markers.
• VIASURE Real Time PCR Detection Kits: a molecular biology technique that allows us to identify the causal
pathogens of the infectious diseases by amplifying DNA fragments.
The booth design presented by Certest was optimized to enhance each of the four business lines, showing
the latest products and developments, as well as the necessary equipment for its optimal start-up, which
attracted the attention of the visiting public. In the words of Nelson Fernandes, Certest Managing Director,
"the exhibition has been a daring commitment to organize. It has been our first experience as exhibitors in
China, but we have found ourselves with a very receptive space and audience towards our proposals. We
expect to obtain good results shortly".