VIASURE Real Time PCR Detection Kits
S. agalactiae, L. monocytogenes & E. coli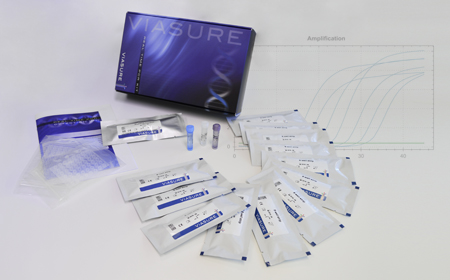 Description
VIASURE S. agalactiae, L. monocytogenes & E. coli Real Time PCR Detection Kit is designed for the specific identification and differentiation of Streptococcus agalactiae, Listeria monocytogenes and/or Escherichia coli in cerebrospinal fluid, blood or culture samples from patients with signs and symptoms of neonatal meningitis.
This test is intended to be used as an aid in the diagnosis of S. agalactiae, L. monocytogenes and/or E. coli in combination with clinical and epidemiological risk factors.
DNA is extracted from specimens, multiplied using Real Time amplification and detected using fluorescent reporter dye probes specific for S. agalactiae, L. monocytogenes and E. coli.
Specifications
Specimen Type
Cerebrospinal fluid, blood or culture samples
Storage up to
(From production) 2 years.
Storage temperature
(Also transport) Room temperature
Information
Bacterial meningitis is one type of serious bacterial infection (SBI) in neonates (0 to 28 days old) and young infants (29 to 90 days old). The most common causative organism was group B streptococcus, followed by Escherichia coli and then Listeria monocytogenes. 
Streptococcus agalactiae, or group B Streptococcus (GBS), is an important pathogen causing invasive infections in neonates and infants. GBS infections in young infants are usually divided into early-onset disease (EOD, 0-6 days old) and late-onset disease (LOD, 7-89 days old). While there was a satisfactory reduction in EOD, the disease burden of LOD remained substantially high. There are ten known serotypes of GBS: Ia, Ib, and II-IX. They have distinct capsular polysaccharide structure, an important virulence factor causing human diseases. Although neonatal GBS infection is closely related to the maternal genital colonization, previous studies have observed a very different distribution of serotypes and phylogenetic lineages between invasive neonatal disease and maternal colonization. Overall, serotype III caused approximately half of the infections, but serotype Ia predominated in patients younger than 72 h old.
Listeria monocytogenes a gram-positive bacterium and a member of the genus Listeria, is a ubiquitous and intracellular pathogen responsible for listeriosis, a fatal disease exhibiting the symptoms of abortion, neonatal death, septicemia, and meningitis. Infection with Listeria monocytogenes during pregnancy is associated with miscarriage, preterm birth, and neonatal complications, including sepsis and meningitis. Inflammation of fetal membranes and placental villitis are noted in these cases , but the actual course of events at the maternal-fetal interface that cause fetal demise are poorly understood.
Escherichia coli frequently causes septicemia and meningitis. However, at present, the pathogenesis of meningitis caused by E. coli is only partially understood for two reasons: i) this infectious disease is a complex process formed by multiple bacterial-host interactions, and ii) the high genetic diversity of the pathotypes among neonatal meningitis E. coli (NMEC) strains. It is known that there are a few features that distinguish these strains. NMEC strains are part of the extraintestinal pathogenic E. coli (ExPEC) subgroup, most of which belong to phylogroup B22 and the sequence type (ST) 95 complex. One of the most common serotypes is O18:K1:H7 to which two of the representative NMEC strains belong, C5 and RS218. The K1 capsular antigen has frequently been detected among isolates causing septicemia and is also presented by approximately 80% of E. coli strains causing neonatal meningitis.
To shorten detection time and improve sensitivity, real-time PCR assays have proven to be a tool for the detection of Streptococcus agalactiae, Listeria monocytogenes and Escherichia coli.