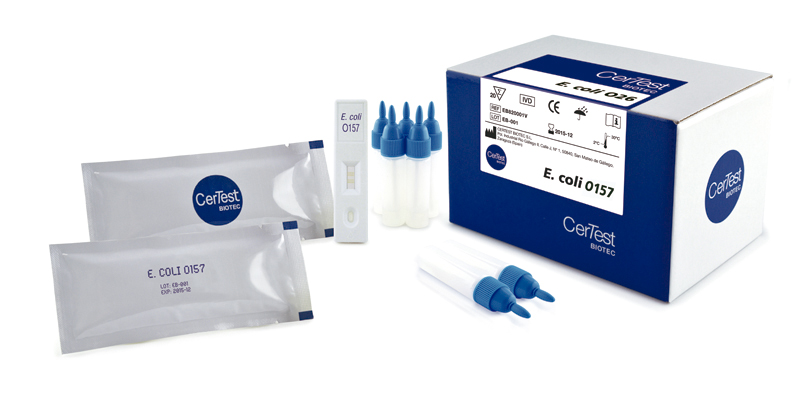 Description
CerTest E. coli O157:H7 one step card test is a coloured chromatographic immunoassay for the qualitative detection of Escherichia coli O157:H7 in stool samples and E. coli O157:H7 suspected colonies in stool culture.
CerTest E. coli O157:H7 card test offers a simple and a highly sensitive screening assay to make a presumptive diagnosis of Escherichia coli O157:H7 infection and it could be used to identify of suspected isolates of E. coli O157:H7 from selective media (stool culture).
Information
Infection with Escherichia coli O157:H7 – Enterohemorrhagic Escherichia coli, EHEC –  presents with a wide spectrum of clinical manifestations, including asymptomatic carriage, nonbloody diarrhoea, hemorrhagic colitis, the haemolytic-uremic syndrome (HUS), and thrombotic thrombocytopenic purpura (TTP).
Not only is Eschericia coli O157:H7 an important agent for haemorrhagic colitis, it is also one of the leading causes of bacterial diarrhoea.
Transmission of Escherichia coli O157:H7 is primarily food-borne. Undercooked meat is the most common culprit, dairy products and secondary person-to-person spread are also important. The organism produces at least two Shiga-like toxins. These toxins are thought to have direct pathogenic significance in Escherichia coli O157:H7 infection.
This infection is usually diagnosed from a positive stool culture, from the presence of Shiga toxins, or both. Timely collection (within 7 days of illness onset) of a stool sample for culture is imperative for a high recovery rate.