CerTest SARS-CoV-2 rapid test obtains CE certification for self-testing.
The Notified Body 0318 (AEMPS) has issued the certification about the CerTest Biotec Rapid Test for the qualitative detection of the SARS-CoV-2 virus antigen is enabled for self-testing use.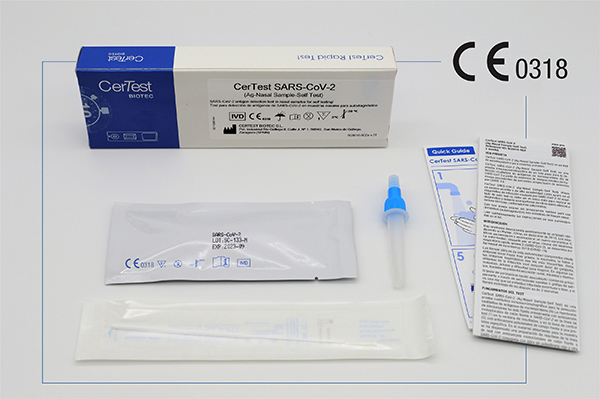 Picture: SARS-CoV-2 simple test for self-testing.
Available in 4 different presentations for 1, 3, 20 and 50 tests, the CerTest SARS-CoV-2 (Ag-Nasal Sample-Self Test) assay is a one-step, highly sensitive immunochromatographic test that allows lay users suspected of COVID-19 infection to obtain a rapid diagnosis without the need for a medical prescription. The sample is taken using a nasal swab, included in the kit, and in just ten minutes the user obtains an easy-to-interpret diagnosis. In addition, the test recognizes the main known variants of SARS-CoV-2, such as Alpha, Beta, Gamma, Delta, Lambda, Mu and Omicron.
This type of test for self-testing is very useful in different contexts where it is advisable to carry out a rapid test that eliminates doubts about the possibility of infection of the subject, such as at the beginning -or end- of a trip, massive events or vacation periods, among others. Each of the four available presentations includes all the necessary elements to carry out the complete diagnostic procedure, and it is recommended that both children and the elderly or those with difficulties be helped by an adult.
CerTest has made an email address available to users for technical queries regarding the use of this product: self.covid19@certest.es