To mark the closing of the first course "Foreign Trade and International Management" organized and conducted by the Commerce Chamber of Saragossa, Oscar Landeta, CEO of CerTest Biotec, was invited to the closing ceremony to give a meeting about the activities of internationalization and expansion that CerTest have made in the last years. This process of internationalization is the main reason for the company to be present in over 120 countries.
In addition, Landeta reviewed the history of the company, sharing some tips and experiences for the new entrepreneurs and companies that want to start the process to market abroad.
José Miguel Guinda, Advisory member of the Commerce Chamber of Saragossa, welcomed the participation of the CEO of Certest, and valued the entrepreneurial experience that Óscar Landeta explained as one of the values that the course wants to share with all students.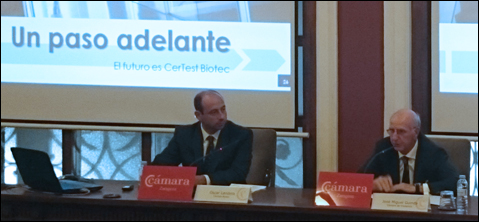 In the picture on the left, Oscar Landeta. On the right, José Manuel Guinda.