Pertussis is a very contagious disease which spreads from person to person usually by coughing or sneezing or when spending a lot of time near one another where you share breathing space. The most important cause for whooping cough (pertussis) is B. pertussis, followed by B. parapertussis. Bordetella holmesii has been isolated from patients with a serious underlying disease.
Despite vaccination pertussis remains endemic in most areas of the world. Reliable diagnosis is required to start appropriate treatment, particularly with non-vaccinated infants in whom pertussis might present as a life-threatening disease.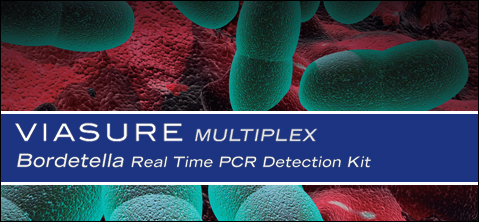 VIASURE Bordetella Real Time PCR Detection Kit is designed for the diagnosis of Bordetella pertussis, Bordetella parapertussis and/or Bordetella holmesii in respiratory samples. The Real Time PCR reaction generates an increased fluorescent signal which is proportional to the DNA target and can be monitored and quantitated. Thanks to its stabilized form, transport and storage of the kits can be performed at room temperature, allowing shipment to anywhere in the world.
Further info through the VIASURE product page.