Established in 1991, CACLP Expo is now the largest, most professional and most influential tradeshow in China IVD industry. It's held in March every year and in cities such as Chongqing, Xiamen, Xi'an and Qingdao.
In 2018, the place will be Chongqing.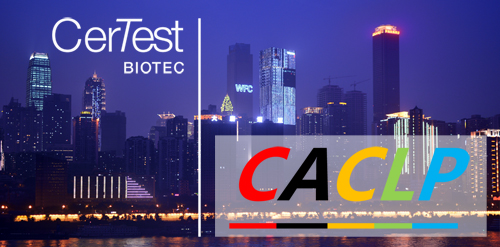 It is now the most important tradeshow that focus in clinical laboratory and in-vitro diagnostics.
CACLP Expo is of great industry influence in China and attracts over 15,000 elites and visitors in in-vitro diagnostics. 80% of the visitors have the authority of purchasing. Also large number of seminars and new product launches are held together during the Expo, making it a most and most influential tradeshow in China.
CerTest Biotec will show its latest developments and new products for the in vitro diagnosis of infectious diseases in human applications, through its four business lines:
CerTest Rapid Test
VIASURE Real Time PCR Detection Kits
CerTest Turbilatex
CerTest bioSCIENCE
Visit us at booth No. N3-T61, from March 17 to 19, at the Chongqing International Expo Center.
Website and further information: CACLP website