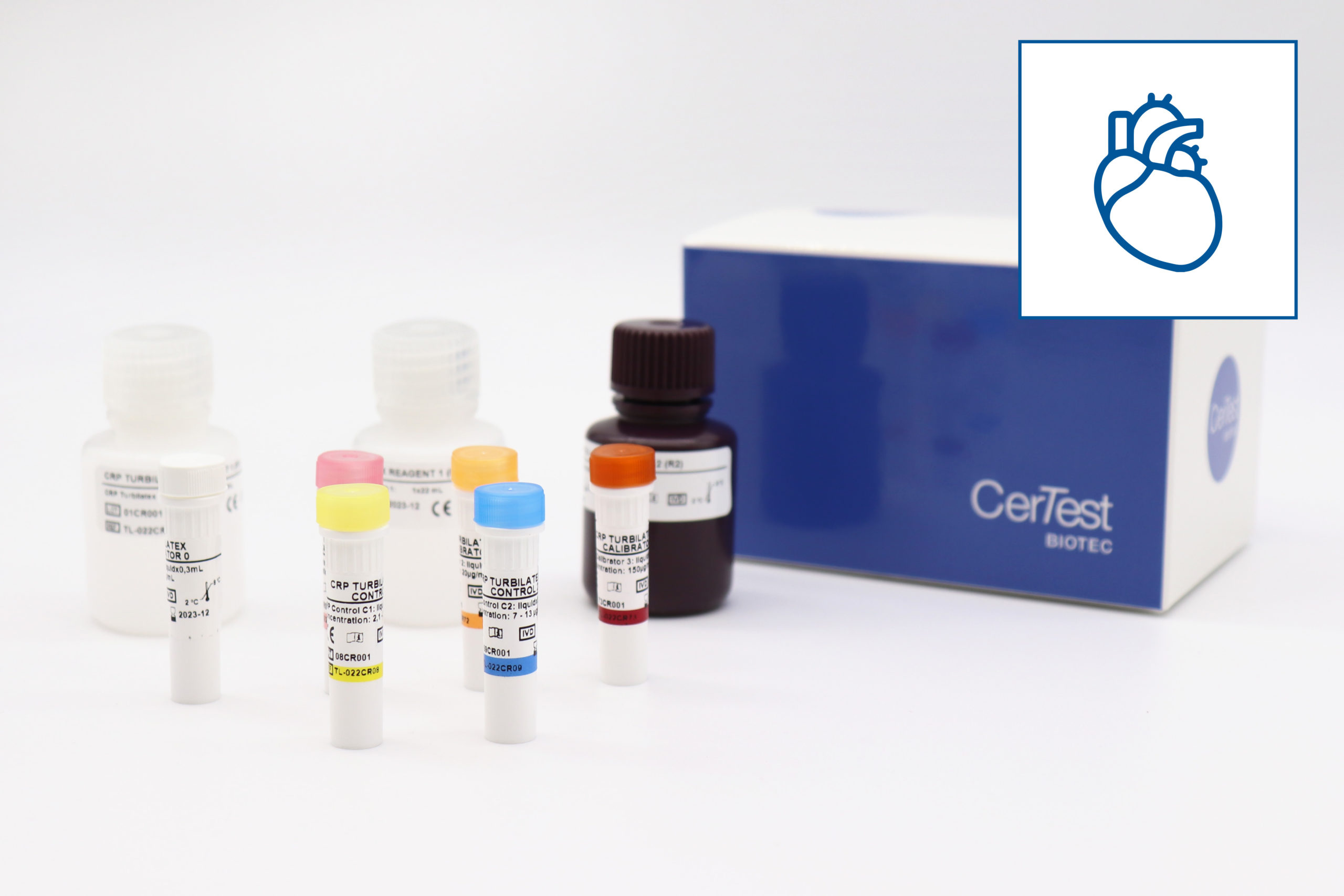 Description
Certest has developed the first turbidimetric kit able to detect with the same reagents C-Reactive Protein in its two important concentration ranges, detecting high sensitivity as a cardiac marker, and high concentrations of C-Reactive Protein as an early indicator of infection or inflammation.
PLUS C-Reactive Protein Turbilatex Combo is a useful in vitro diagnostic method for the monitoring of C-Reactive Protein in serum, with a wide detection range of up to 150 ug/ml.
IU_TL-022CR200ED-800ED en-es v.0522 – CRP
IU_TL-022HS200ED-800ED en-es v.0522 – HS CRP
Information
C-Reactive Protein, synthesised in the liver, is a circulating plasma protein that increases in levels in response to an inflammatory process, and is therefore known as an acute phase protein.
It is useful in the early diagnosis of cardiovascular accidents, one of the main causes of death in developed countries.
The concentration of high-sensitivity C-Reactive Protein (HS-CRP) will increase if there is a risk of myocardial infarction and cerebrovascular disease due to the inflammation that our organism generates in the face of an atherogenic pathology.
On the other hand, if we analyse C-Reactive Protein (CRP) in a higher detection range (20-150 ug/ml), we will monitor acute infections, because the first response of our body to an infection will be inflammation.
This test offers the possibility of calibrating in both CRP detection ranges with the same reagents using the specific calibrators for each one.
HS-CRP specifications
Method
Turbidimetry
Sensitivity (%)
100
Specificity (%)
91
Sensitivity limit
5 ug/mL
Detection range
1 ug/ml to 20 ug/ml
Interferences
None
CRP specifications
Method
Turbidimetry
Sensitivity (%)
93
Specificity (%)
98
Sensitivity limit
10 ug/mL
Detection range
3 ug/ml to 150 ug/ml
Interferences
None