VIASURE Real Time PCR Detection Kits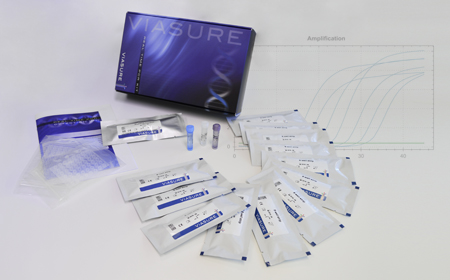 Description
VIASURE C. trachomatis (LGV) Real Time PCR Detection Kit is designed for the specific identification and differentiation of Haemophilus ducreyi and/or LGV-associated strains of Chlamydia trachomatis in clinical specimens from patients with signs and symptoms of Haemophiluis ducreyi infection and/or lymphogranuloma venereum (LGV).
This test is intended to be used as an aid in the diagnosis of Haemophilus ducreyi and/or Chlamydia trachomatis (LGV strains) in combination with clinical and epidemiological risk factors.
DNA is extracted from specimens, multiplied using Real Time amplification and detected using fluorescent reporter dye probes specific for Haemophilus ducreyi and Chlamydia trachomatis (LGV strains).
Specifications
Specimen Type
Clinical specimens
Storage up to
(From production) 2
Storage temperature
(Also transport) Room temperature -
Information
Haemophilus ducreyi, a gram-negative bacterium, is the causative agent of chancroid, a genital ulcer disease (GUD). The organism is usually spread during sexual intercourse through microabrasions, and the disease usually manifests as multiple painful superficial ulcers associated with inguinal lymphadenitis. As a result of the painful nature of the lesions, patients usually seek immediate treatment, and asymptomatic carriage is therefore uncommon. In addition to causing GUD, H. ducreyi has been found in several recent studies to be a major cause of chronic skin ulceration in children from developing countries.
Chancroid or soft chancre is a sexually transmitted disease (STD) of humans, characterized by painful genital ulcers. The primary ulcer is often followed by multiple lesions, which can extend the duration of the illness to 1-3 months if appropriate treatment is not given. Traditionally, chancroid has been difficult to diagnose clinically, because similar symptoms can occur in infections with Treponema pallidum (syphilis) and Herpes simplex virus. Laboratory diagnoses can be equally frustrating, as Haemophilus ducreyi, the causative agent of chancroid, does not survive well in most transport media, has complex nutritional requirements for growth, and once isolated is poorly reactive biochemically.
Chlamydia trachomatis (Ct) is a gram-negative obligate intracellular pathogen responsible for over 110 million global sexually transmitted disease (STD) cases annually, with sequelae including pelvic inflammatory disease (PID), ectopic pregnancy, and infertility. Ct is also responsible for outbreaks of lymphogranuloma venereum (LGV) and trachoma, a chronic ocular disease that can lead to blindness.
LGV is caused by specific serovars of Chlamydia trachomatis (L1, L2 and L3) and these strains are associated with a more chronic and invasive infection than other serovars. Although LGV symptoms can vary according to site of entry and stage of infection, genital ulceration and inguinal lymphadenopathy are the classical presentations of this disease. The laboratory identification of LGV can be problematic, as routine culture of C. trachomatis for diagnostic purposes has largely been replaced with nucleic acid amplification techniques.
The detection method applied at the beginning was based on the culture, which takes a long time to complete and many difficulties. To shorten detection time and improve sensitivity, real-time PCR assays have proven to be a tool for the detection of Haemophilus ducreyi and Chlamydia trachomatis (LGV).