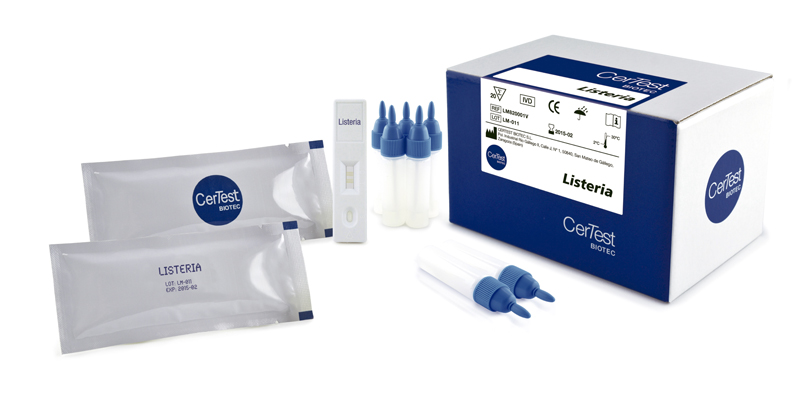 Description
CerTest Listeria one step card test is a coloured chromatographic immunoassay for the qualitative detection of Listeria monocytogenes in stool samples.
CerTest Listeria card test offers a simple and a highly sensitive screening assay to make a presumptive diagnosis of listeriosis in infected humans.
Information
Listeria monocytogenes is a foodborne pathogen that can cause serious invasive illness, mainly in certain well-defined high-risk groups, including elderly and immunocompromised patients, pregnant women, newborns and infants.
L. monocytogenes primarily causes abortion, septicemia or meningitis. Contaminated meats (such as hot dogs, delicatessen meats and pate), dairy products and seafood have all been implicated in outbreaks of listeriosis.
Listeriosis has an extremely variable incubation period. It can range from three to 70 days, but symptoms usually appear within a month. A person with listeriosis has fever, muscle aches, and sometimes gastrointestinal symptoms such as nausea or diarrhoea. If infection spreads to the nervous system, symptoms such as headache, stiff neck, confusion, loss of balance, or convulsions can occur. Infected pregnant women may experience only a mild, flu-like illness; however, infections during pregnancy can lead to miscarriage or stillbirth, premature delivery, or infection of the newborn.
L. monocytogenes is also established as a cause of acute, self-limited, febrile gastroenteritis in healthy persons. At least 7 outbreaks of foodborne gastroenteritis for which L. monocytogenes was the most likely etiology have been described.